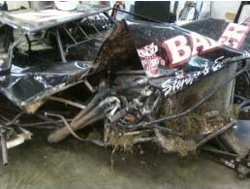 Dave Esse's car after the crash at Amsoil Speedway. Submitted photo
Cloquet-Esko-Carlton head boys hockey coach David Esse was injured in a crash while racing his late model car at Amsoil Speedway in Superior, Wis., on Saturday, Sept. 10.

He was admitted to St. Mary's hospital in Superior where he was in intensive care.
After the accident, Esse was conscious, badly bruised and complained of tightness in his chest.

He was held for observation and scheduled to have more tests to determine his condition in regard to potential internal injuries. Esse was then released.

An Amsoil Speedway source said that Esse suffered a concussion, a bruised heart and chest cavity along with several possibly broken ribs.
While racing at 110 mph, Esse's rear tire was tapped as he approached turn three, sending his car airborne toward a fence pole where his car made contact with the wall and fence at 80 mph. The Lumberjacks coach was pulled from the car and taken to the hospital.
In addition to coaching, Esse has a passion for racing and has been a mainstay in the racing scene in the Northland area. He currently is in 22nd place in the late model points standings.