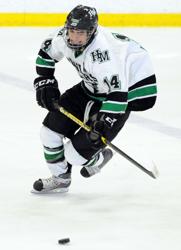 Charlie Sampair used his unmatched speed to score 30 goals and notch 21 assists last season for Hill-Murray. Photo by Helen Nelson
Sampair committed to the Bulldogs on the eve of the USHL's Tuesday, May 22, entry draft. Sampair said the UMD coaching staff wanted to know his decision so it could then alert the league's teams that he was headed straight to college after graduating from Hill-Murray.
Apparently, there was a glitch somewhere in the communication stream, as the Indiana Ice selected Sampair with their first-round pick (14th overall).
"Somewhere along the line, some sort of connection got screwed up with Indiana," Sampair said. "They were a little upset."
Weeks earlier, Sampair's mother had suggested that he apply at schools that interested him. UMD was on his favorites list.
"I was all set to play juniors, but she said, 'You just never know, you should apply somewhere," the 6-foot-, 185-pound Sampair said. "I just picked Duluth for fun."
Sampair will join a Bulldogs roster that includes former standout Pioneers defenseman Chris Casto. Hill-Murray defenseman Blake Heinrich, a junior last season, also has committed to play at UMD.
The Bulldogs will be getting a player Lechner believes can be a big asset to a program that is a season removed from winning a national championship.
"I think he is growing up and maturing," Lechner said, pointing to Sampair's dedication to weight training last season. "He's got the tools. He can fly, and he's got size."
Sampair's breakthrough senior campaign came after what he described as an terrible junior season. He scored six goals and had three assists as a junior after scoring 15 goals and registering seven assists as a sophomore.
"I had injury problems and attitude problems," Sampair said about his junior season. "After that year I got it together. I tried to be in the weight room every day. I was so upset with how it went."