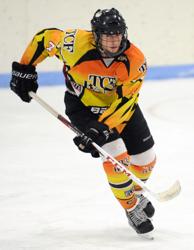 Team Southeast's Luc Snuggerud, an Eden Prairie junior, is the son of former University of St. Thomas star Bo Snuggerud. Photo by Katherine Matthews
"I was talking to a couple of other schools, and I visited a couple of others," said Snuggerud, who turned down scholarship offers from St. Cloud State and Minnesota State. "But I went down to Nebraska-Omaha, and it just seemed right. The coaching staff was awesome, they are getting a new rink, which is going to be sweet. They are getting a lot of Minnesota guys down there, so that's cool."
Former Eden Prairie standout defenseman Nick Seeler is a Nebraska-Omaha freshman. Seeler will be a familiar face for Snuggerud, although the two never played together growing up (Seeler, who helped the Eagles win the 2011 state Class 2A title, is three years older than Snuggerud).
One of the biggest selling points for Snuggerud was Nebraska-Omaha's reputation for developing pro-caliber defensemen.
"They said their D corps right now, out of the eight guys, seven of them are going to sign NHL contracts," said the 5-foot-11, 165-pound Snuggerud. "That's pretty big. That's the main goal, obviously. That was the turning point for me."
Snuggerud had five goals and 15 assists in 25 games for Eden Prairie last season. This fall he has a goal and eight assists in 18 Elite League games. The goal came in Team Southeast's 6-3 victory over Great Plains on Saturday, Oct. 13.
Although both his dad and uncle were high-scoring forwards in their heydays, Snuggerud says he enjoys setting up plays more than finishing them.
"I played forward and D growing up," Snuggerud said. "D feels right because you can kind of control the play back there. It's a lot easier to see the rink, which I like.
"I would rather get the assists then score the goals."