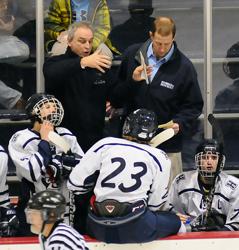 Hibbing/Chisholm coach Mark DeCenzo gathers his team during a late timeout.
Little Falls senior defenseman Matthew Stumpf certainly remembers that game. Even after scoring the game-winner with a first period slap shot Friday night, he admitted to being happier about the shutout than the goal.
"We were just trying to take the body to just get him off his game," said Stumpf. "Rub him out. Every chance we get, just hit him."
Stumpf and fellow senior Spencer Fenske earned praise from Couture for their defensive efforts, as did Nathan Adamietz, Taylor Kottschade and freshman Mack Anez
"We're not going to put up points like we used to against teams of this caliber," admitted Fenske. "There aren't going to be blowout games for us this year. We have to play solid D and bury the puck when we need to."
Hibbing/Chisholm coach Mark DeCenzo had been around the block a few times, as well. He knows that teams will be focusing on Johnson this winter and what that means for his team.
"If we're going to be successful, other kids are going to have to step up and not rely on him so much," said DeCenzo. "If we go into the season relying on him, then we're screwed. If we go into the games knowing that he's an integral part of our team, but we're going to carry our load, we'll be a lot better."
The "star treatment" worked well against Johnson and the Bluejackets on opening night, but Couture knows it's a game of Russian roulette. After all, there's a reason Hanowski's name is at the top of the state scoring charts. Just as there's a reason Johnson was so heavily recruited by D1 schools like UMD.
"The next time we play them he could score five goals," shrugged Couture.
But on this night, the Flyers had Johnson and Hibbing shooting blanks.