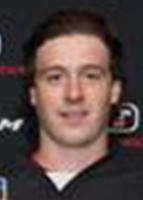 Reggie Lutz, Elk River/Zimmerman hockey
A cracked femur forced Elk River/Zimmerman forward Reggie Lutz to begin last hockey season in the stands logging statistics with a pen.
He's back to doing his best work with a stick. Lutz, a senior, led the fall Elite League with 17 goals. He joins linemate Jake Jaremko (committed to Minnesota State Mankato) and defenseman Matt Kiersted (North Dakota) as one of the Elks' top players.
The talented trio has put Elk River/Zimmerman in the mix of the state's top teams. Coaches votes the Elks fifth in the preseason rankings. The team just missed a state tournament appearance last season, losing 3-2 in overtime to Duluth East in the Greyhounds' back yard of Amsoil Arena.
Lutz scored the game's first goal. He is expected to pile up more this season, which began Tuesday at Wayzata after this edition went to press.
Lutz deploys his strengths — good speed, moves and shot — in bursts. He's a hardworking player who gets up and down the rink.
He spoke with Star Tribune reporter David La Vaque about the strong Elite League performance, a lifelong friendship with Jaremko and why he considers this season to be state tournament or bust.
Q What do you hope to take from your Elite League experience?
A Leading the Elite League, which had so many great players, in goals is a great confidence booster going into the season.
Q When you are on your game, what do you do well?
A I usually move the puck pretty well, and I put the puck in the net when the opportunities come.
Q This is the third year Gordie Roberts has been coaching Elk River/Zimmerman. Do you feel like it's his program now and things are clicking?
A Definitely. I think Gordie got used to high school hockey and he knows how to coach it. He does a great job getting us going.
Q There are high expectations for your team. How are players dealing with the attention?
A We definitely know we're one of the top teams in the state. Gordie reminds us of that. But he also says that we have to keep working hard in practice every day to get better so that, hopefully, at the end of the season we can win a state championship.
Q After being injured last year, how much better does it feel this year going in close to 100 percent?
A It feels so much better. Going into the season 100 percent feels good.
Q You and Jake Jaremko [who led the Elite League with 42 points] are linemates. When you guys are clicking, what works so well?
A We've been playing on the same line since mini-mites pretty much. He's my best friend, so we know each other on the ice and off the ice. We're always able to find each other.
Q Some lines are bruisers and others are great with the puck. What is the identity of your line?
A We're more of the skilled-type players. Jake definitely is. I'm not afraid to throw the body around and get the puck to Jake. So when the time comes, we can play physical.
Q Any games you are excited about this season?
A The first couple games. Opening at Wayzata, where the fans are crazy. And the home opener against Benilde-St. Margaret's will be packed. And then Duluth East comes down and that's a rivalry game. We want some payback after what happened in the section final.
Q Is it state tournament or bust for this team after getting so close last year? Or in what way do you plan to judge this season?
A I think it's state tournament or bust this year for us. We have a great team from what I can see and from what Gordie says about us. We have high expectations to get to state and nothing less.
David La Vaque